Your flowers never before looked so colorful in such a short time.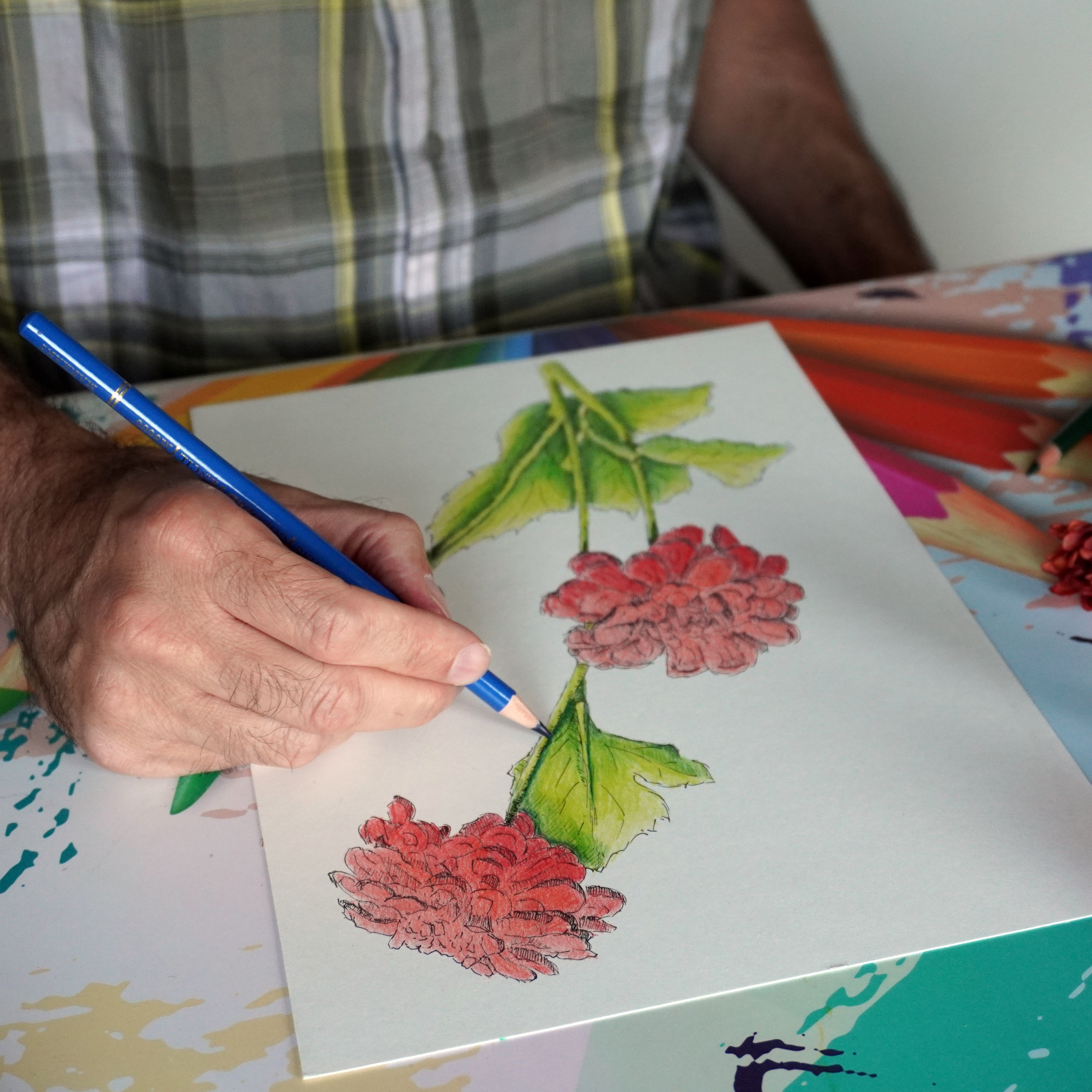 Flowers come in so many different shapes, sizes, and colors. Somehow their beauty has a special way of touching our hearts. No wonder coloring or painting flowers can give us such great joy. Yet making a colorful artwork of flowers can also be experienced as a great challenge, with several big hurdles to overcome along the way, robbing you from this joy you're longing for.
Many of my students had the idea that creating beautifully colored or painted flower sketches is rather complicated. Understanding color theory, light & shadows, working with watercolor paint, blending of colors – subjects that can be serious fun-killers for many people. Not to even mention all the hours you need to invest in creating a good-looking piece of flower art.
My name is Benjamin Aeilkema and I'm an illustrator and Artist from The Netherlands. I love creating Artworks with all kinds of materials. As many, many other artists, I also find great joy in capturing the beauty of nature in artworks. There is just something very special about this!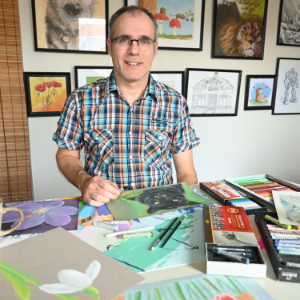 Let me tackle the mentioned hurdles for you and show you a much easier and quicker way to create satisfying results. Once you discover my unique 'Three-Color-Technique', you'll be amazed at how far a few simple steps will take you.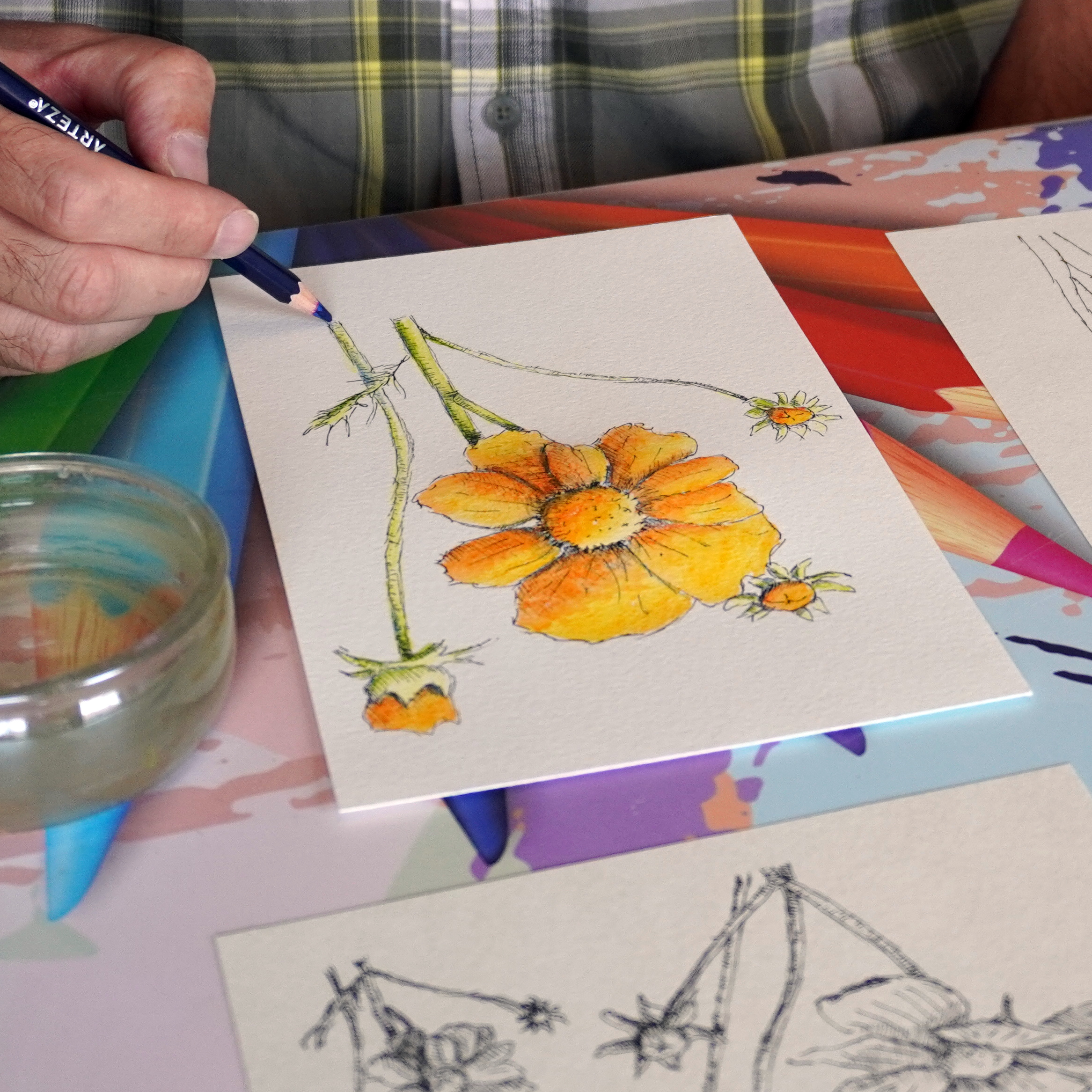 In this Art Class we will be working with colored pencils and watercolor pencils. My specially designed 'Three-Color-Technique' will show you how to pair your pencils in such a way that it only takes a few simple steps to add color and shading to your sketched drawing.
The techniques I'll be showing you for blending colors, is going to be a great gamechanger for you. The traditional way of blending colored pencils can be a very time consuming and complicated process. This method is simplified, to actually make it fun again!
Another great advantage of this Art Class is that it totally eliminates the intimidation of working with watercolor paint. I will show you how to get that lovely watercolor-look by using watercolor pencils. You'll be painting your sketches without ever having to learn how to paint.
Of course, I will start out by showing you how to use your pencil and fineliner to add a sketched effect to your drawings. You'll find quite a selection of drawings provided for you with this Art Class. Along with several methods on how to transfer them onto your paper of choice.
This complete package will have you coloring and painting lovely flowers with confidence in no time!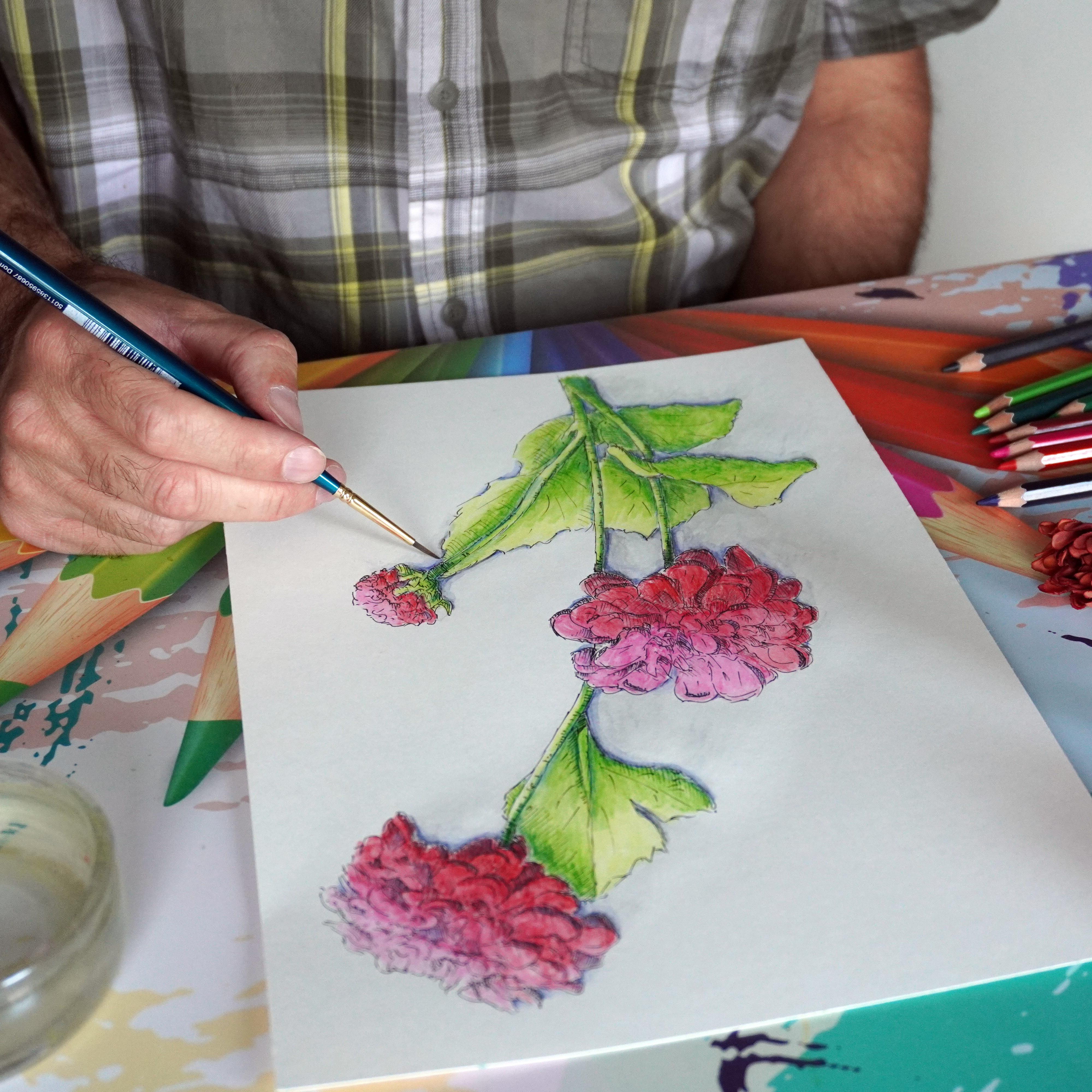 Enrolling in this Art Class will give you 5 modules with 7.5 hours of clear instructions and examples. In these videos, I will be sharing various methods with you. You will greatly benefit from my decades long experience as an instructor and teacher.
My easy-to-follow teaching method will help you to understand exactly how to get from point A to point B. The in-depth demos make even the more complicated matters easy to understand and apply. Each module ends with a fun project that has a practical application of what we've discovered together.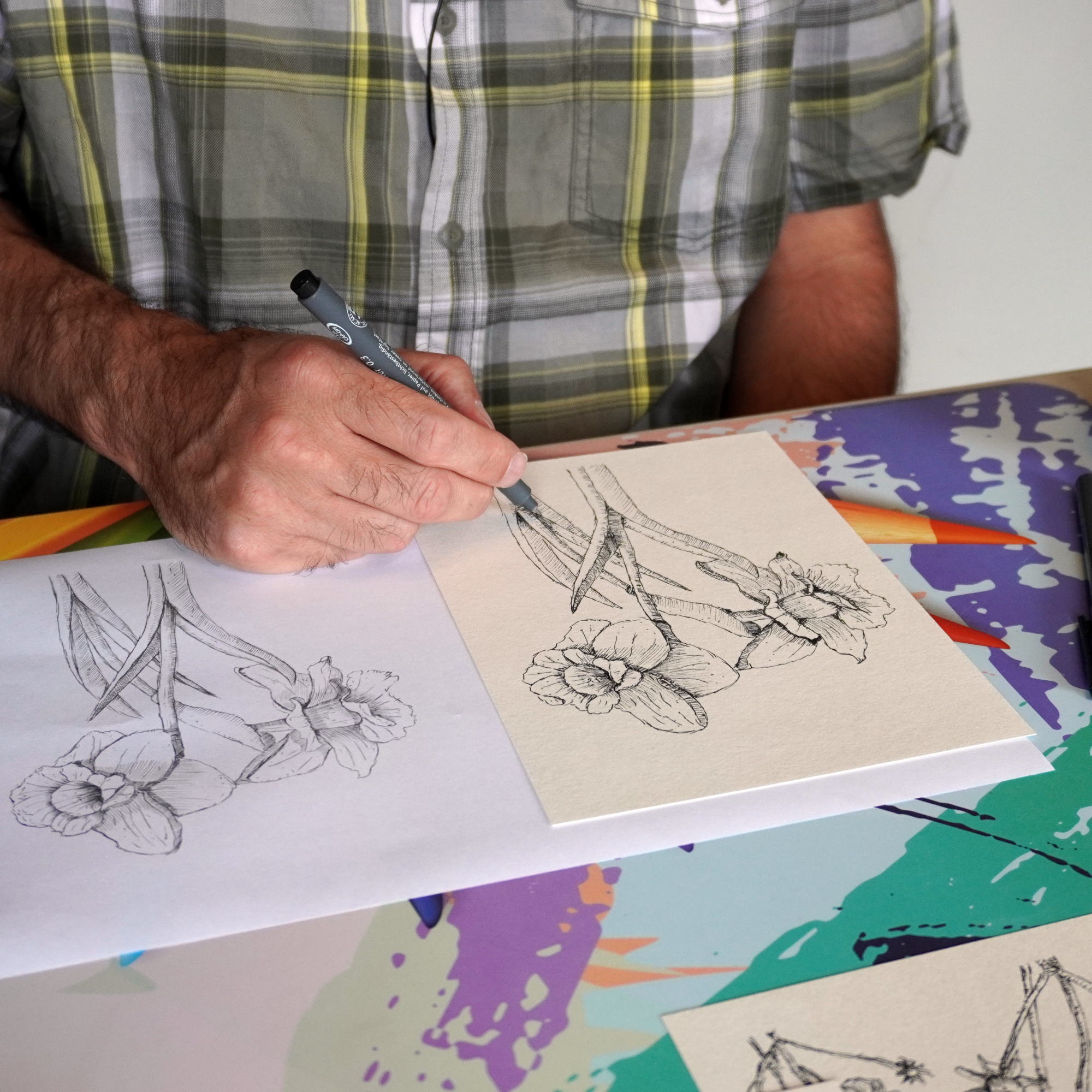 There's more.....
Additional PDF: Great Time Saver in PDF format
To help you save time, I'm providing you with a handy book of notes and references. Once you've completed an assignment, there's no need to re-watch the video lesson. Instead, all of my finished works are in this booklet. Just find the lesson you're on and compare your work to the finished assignment in the book. Again, this will save you time and allow you to keep on going.
That's not all though, more importantly, I've also included all of the drawing and shading references. You can use these as a base for your drawings and paintings. Transfer them to your paper of choice and you're ready to go. With this booklet you have plenty of reference material to get you started.
Forum
A place to share your work, interact with other students and ask your course related questions.
What Students are saying about my classes...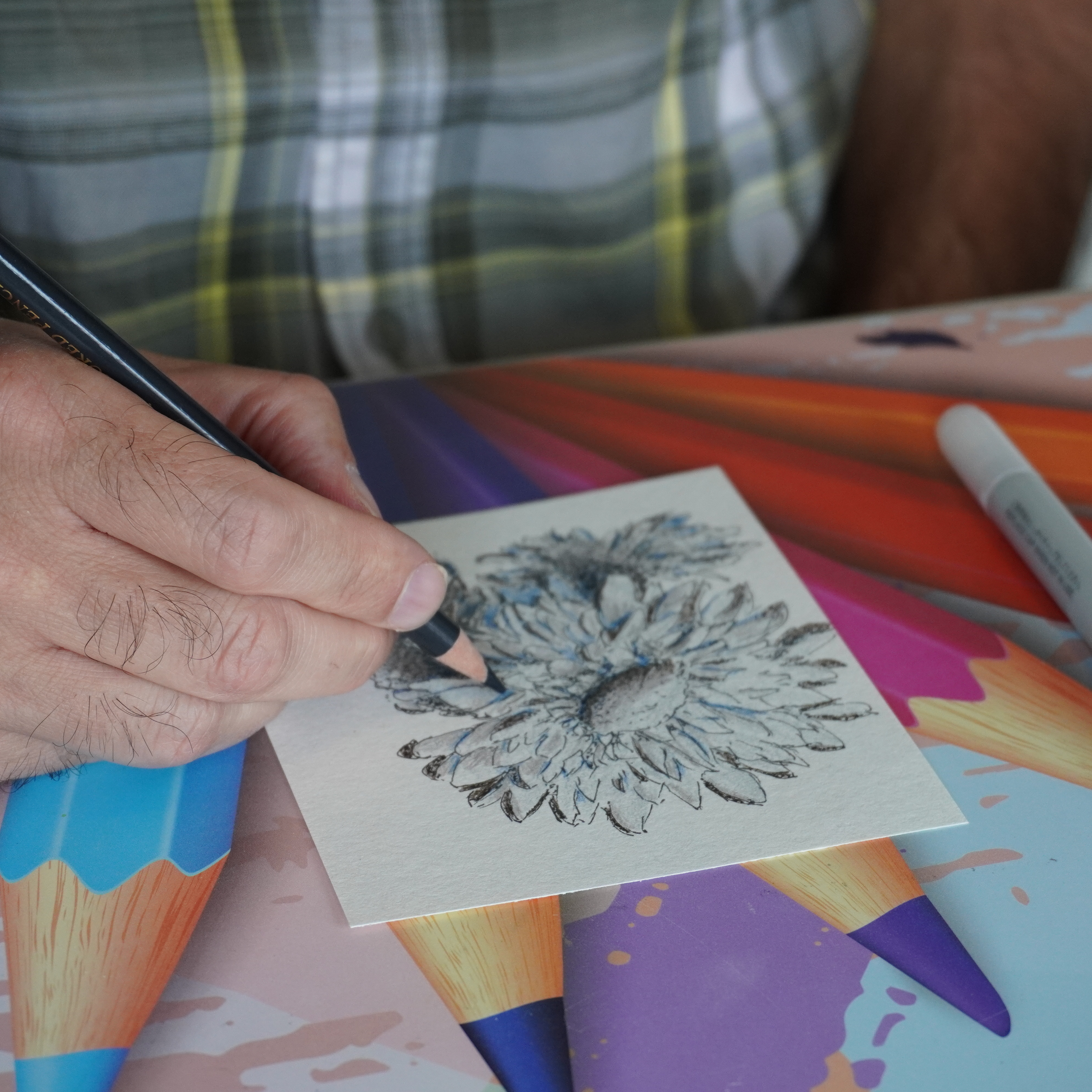 Rachael Ayers
Benjamin is a great teacher. Through his attention to detail you can learn a lot about how to get the most from your coloured pencils. I have learned a lot from him. He is patient and thorough with his explanations and experienced in a range of media. What I really admire is his generosity of spirit, he is genuinely passionate about art and creativity and that comes across in the way he gives so much of himself to help others to learn and yet he does so with an open hand, he will always celebrate your success with you, as being a product of your effort, not his teaching, for me, this is the sign of a truly excellent teacher. I have learned a lot from him and ALWAYS felt encouraged and motivated by his support. I highly recommend this and any of his courses.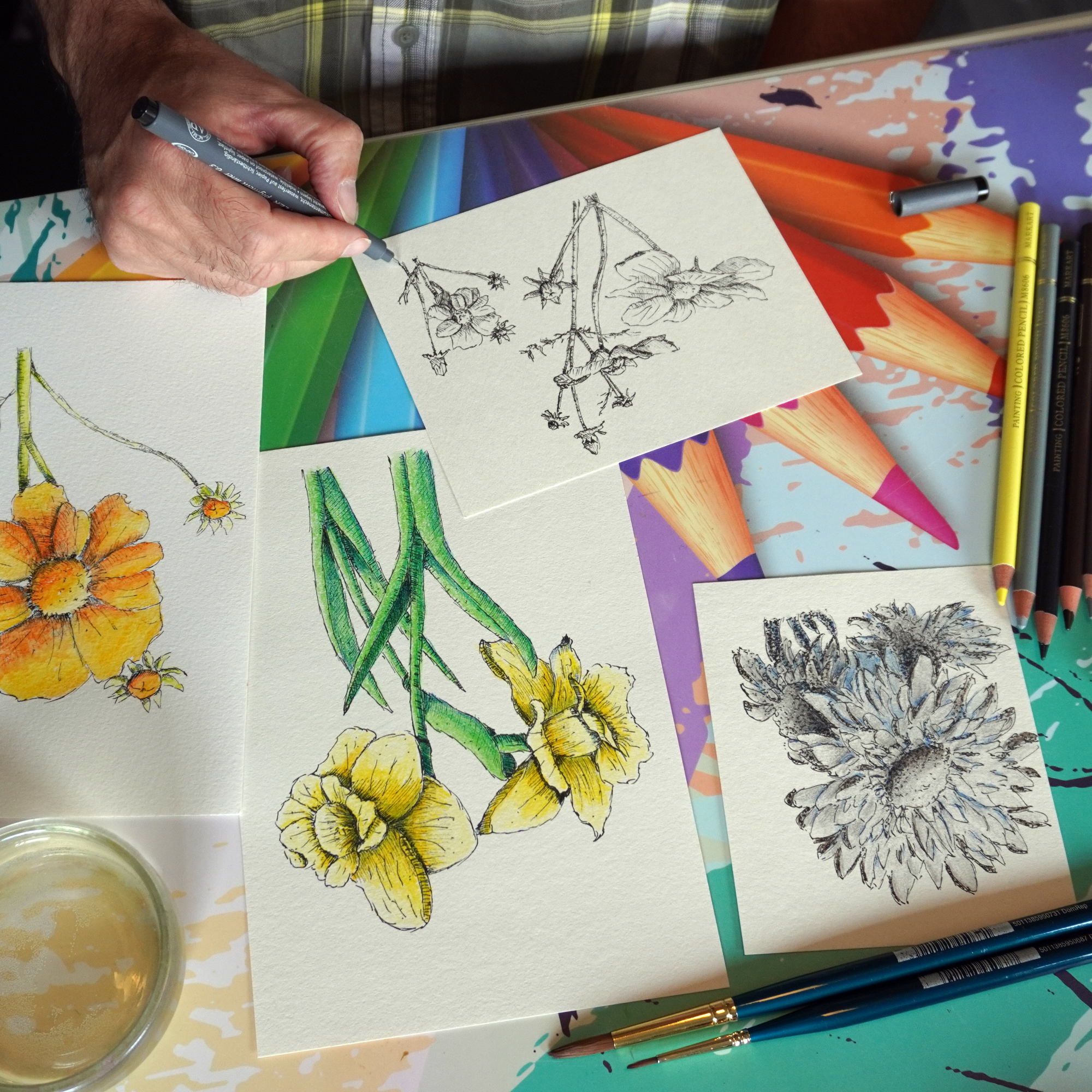 Michelle Silbert
Benjamin is a wonderful teacher. I learned so much about coloring with pencils in this class. He is very good at explaining methods in detail and gives excellent information on materials to use. Benjamin's demeanor makes it easy to listen to the videos and his expertise leaves you wanting to learn more about the art media you are learning. Thank you for this course, I highly recommend it!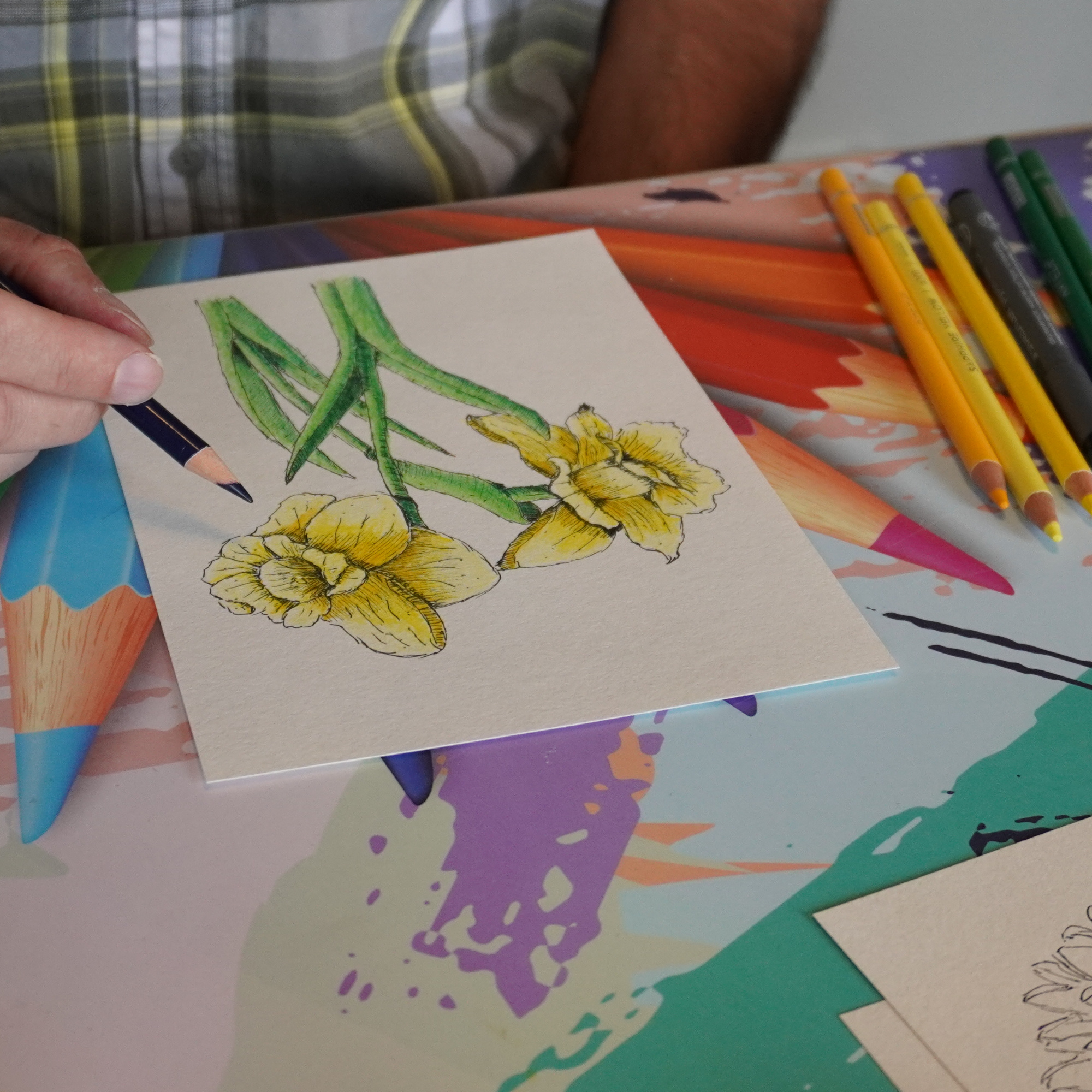 Aliclau
Benjamin's passion for art and teaching shows in this class. While professional art materials are not disregarded, I like that the more affordable pencils and papers are given a chance. This makes the course very friendly to the beginners that are interested in exploring the basics techniques of this medium without committing yet to expensive materials. Each section is presented and explained with care and in detail, so I would recommend this class to those who prefer a 'work along' approach (do your own drawing while watching in real time each step).

What if I'm not happy with my Art Class?
While I would not like to see you go, there is a 30 day money back guarantee.

Will I loose access to the Art Class?
No, you will not. As long as Art Classes by Benjamin is active you will have access to your Art Class. While I don't gave eternal life on this earth, I hope to be around for many more years.

Is there a time-limit to complete the Art Class?
It's self-paced. You can access the Art Class whenever and how often you want.

Can you describe this Art Class in one sentence for me?
In this Art Class you will learn how to add color to flower drawings and sketches in a quick, yet effective and convincing way using colored pencils and/or watercolor pencils.

Do I need special expensive art supplies to do this class?
No, any inexpensive material you can pick up anywhere will be fine.

how many colors do you recommend when getting a set of colored pencils and watercolor pencils?
I recommend at least a set of 36 colors, but 48 colors gives you even more options.

What kind of paper will you be using in this Art Class?
I'm demonstrating sketchbook paper, bristol paper, mixed-media paper and watercolor papers.
You don't need all those papers, you only need one kind of paper to be successful in this class, but experimenting with different kinds of papers is fun. If you will be using one kind of paper only, I recommend using Mixed-media paper or Hot Pressed Watercolor paper

Do I need a certain brand of art supplies?
No, any brand will do. Get what you can afford or use what you already have.

Why are you not demonstrating more with expensive artist quality colored pencils and watercolor pencils?
The techniques this Art Class shows work with any type of colored pencils and watercolor pencils. To ensure everyone can get the most out of this Art Class, I'm mainly demonstrating with popular inexpensive brands.

Are you using complicated hard to follow techniques in this Art Class?
No, I developed special techniques that are easy to follow and anyone can pick up, yet give very satisfying results.

Is there a lot of (boring) art theory in this Art Class?
No, most of the lessons are very practical orientated. Even when there is some theory, it's very practical.

I'm not an artist, is this class still for me or I'm not talented at all, will I still be able to get something out of this Art Class?
Yes, no prior knowledge or skills required. Talent is welcome, but no requirement at all. With or without talent you can learn of the techniques this Art Class shows you and you will be surprised what kind of skills you can pick up. If you've got some art skills already, you can still do this class of couse.

Does this Art Class only teach me skills and techniques?
While we will pay attention to skills and techniques throughout the Art Class, we will make it very practical. Each module ends with a project to show you how you can practically apply the skills you've gained throughout the module.
Do these techniques work for (adult) coloring pages too?
Yes, without a doubt.

Do I need to know how to draw?
No, this Art Class has ready-made drawings for you to use and jump right into the lessons. One of the lessons will show you ways to use these ready-made drawings and transfer them to different paper. If you can draw, that will of course be very useful too, but you don't have to know how to draw.

Some Art Classes only work with specific brands of (water)colored pencils or paper, is that the case in this Art Class too?
No, the techniques shown in this Art Class are totally brand unrelated. Whatever brand or non-brand you have, it just works.