Even without experience, talent or if you've failed before!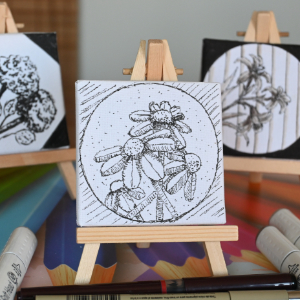 Nature is such a big source of inspiration for artists. The beauty of creation is simply stunning! No wonder it brings such joy to be able to capture some of this beauty on paper!
Accomplishing this task, however, can be somewhat intimidating.
Depending on the level of your drawing skills, you'll be facing different challenges….
"Drawing specific flowers (which someone else can actually recognize and identify!) is just way too hard. I don't know where to start to make this happen. No matter how I try, it just never turns out right!"
"I love drawing beautiful flowers, but I don't do it as often as I would like, because it takes so many hours to get a nice result."
"Once I put my hand to paper to draw the lovely flowers I am closely observing, I get lost in the details. It seems like I'm trying so hard to make sure I capture all the dynamics and different elements involved, that I get 'trapped' somewhat along the way…"
My name is Benjamin Aeilkema and I'm an illustrator and Artist from The Netherlands. I love creating Artworks with all kinds of materials. As many, many other artists, I also find great joy in capturing the beauty of nature in artworks. There is just something very special about this!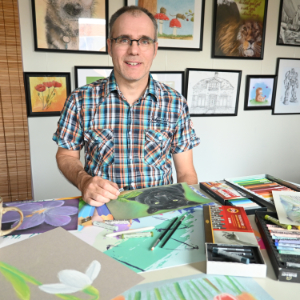 But I can also identify with the challenges and struggles many people have shared with me over the past few years. These very same issues I've been dealing with in my own works. It can be really frustrating to get stuck along the way and not know how to proceed, or how to improve the way you're go about things.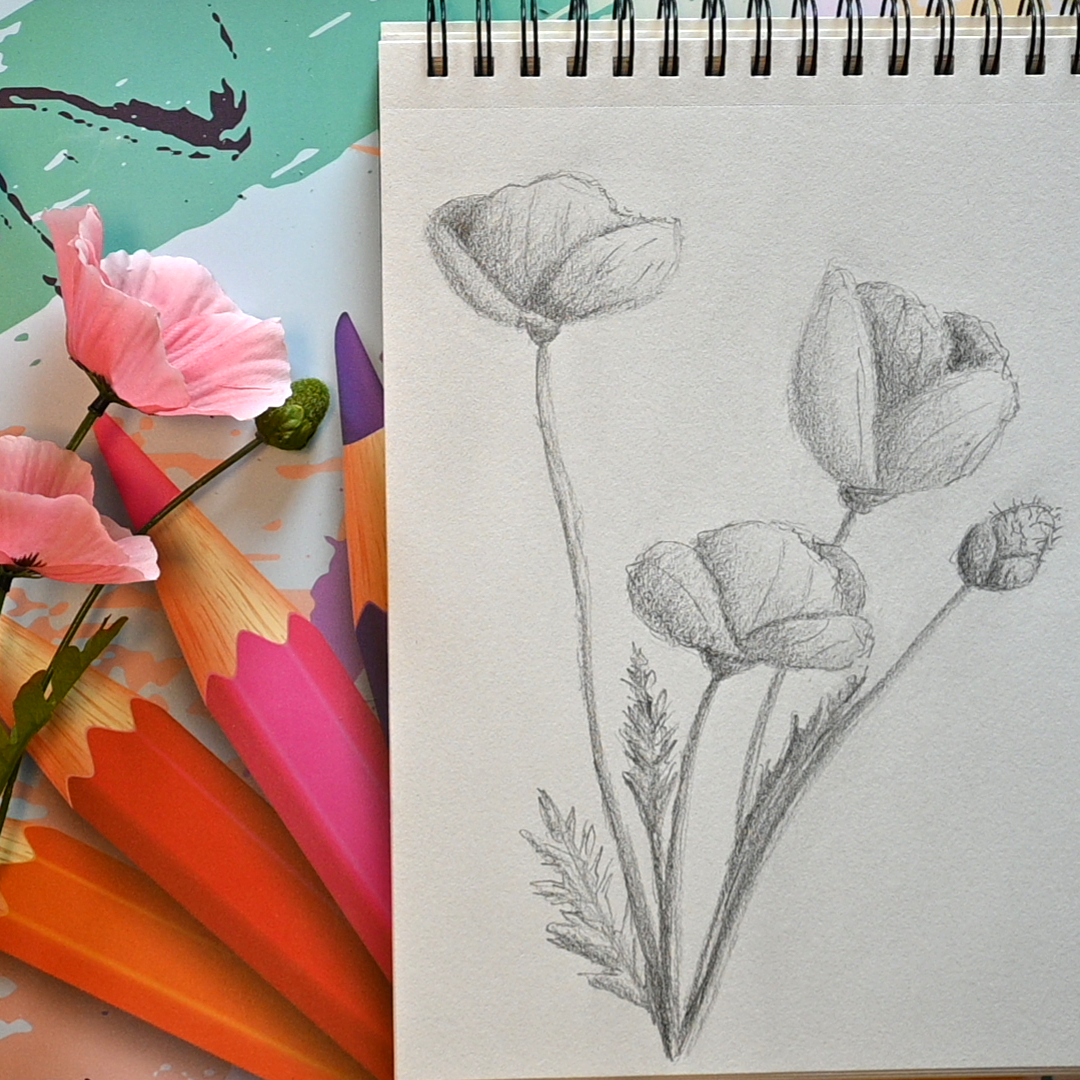 Nevertheless, I somehow was convinced that I could discover the right techniques to conquer these challenges.
You might be surprised to hear that the key I found has everything to do with the way we go about STARTING a flower drawing. The key is in the way you observe the flowers and what parts you really need to focus on in your drawing. Just as important is understanding which unnecessary, time consuming details you need to eliminate from your work process.
In my quest for a very successful Quick Sketch Method, I discovered we all have the tendency towards focusing on the wrong details, in the wrong order. This makes drawing so much harder than it needs to be. It takes away from the joy and pleasure we can all find in drawing flowers, no matter what your current skill level might be.
In this Art Class you will discover the key to wonderful Quick Sketching - a transformation of your thinking pattern in where to start and where to end. You will be delivered from getting lost in the details and find a new revolutionizing workflow.
So are you ready to unlock your capacity to do amazing Quick Sketches?
Capture what you observe quickly

So you can still draw something convincing without it having to take hours from your precious time

Discover this very special Quick Sketch Method which is easy to adopt, yet easy to adapt to your own style, wishes and liking

Use this method to create stylized, yet charming drawings

Work from Project to Project. At the end of every module there's a practical application of the skills acquired. Create Framed Drawings, have fun with Mini Canvases, fill up your Sketchbook, develop Greeting Cards & Fridge Magnets and more.

If you're a beginner you can certainly use these newly acquired skills as a stepping stone. This will help you overcome the intimidation to take on the next level of more detailed drawings. Once you master this method, you'll face that challenge with confidence.
Gain a whole new perspective on the way you work!
Enrolling in this Art Class will give you 6 modules with 5.5 hours of clear instructions and examples. In these videos, I will be sharing my quick sketching method with you. You will greatly benefit from my decades long experience as an instructor and teacher.
My easy-to-follow teaching method will help you to understand exactly how to get from point A to point B. The in-depth demos make even the more complicated matters easy to understand and apply. Each module ends with a fun project that has a practical application of what we've discovered together.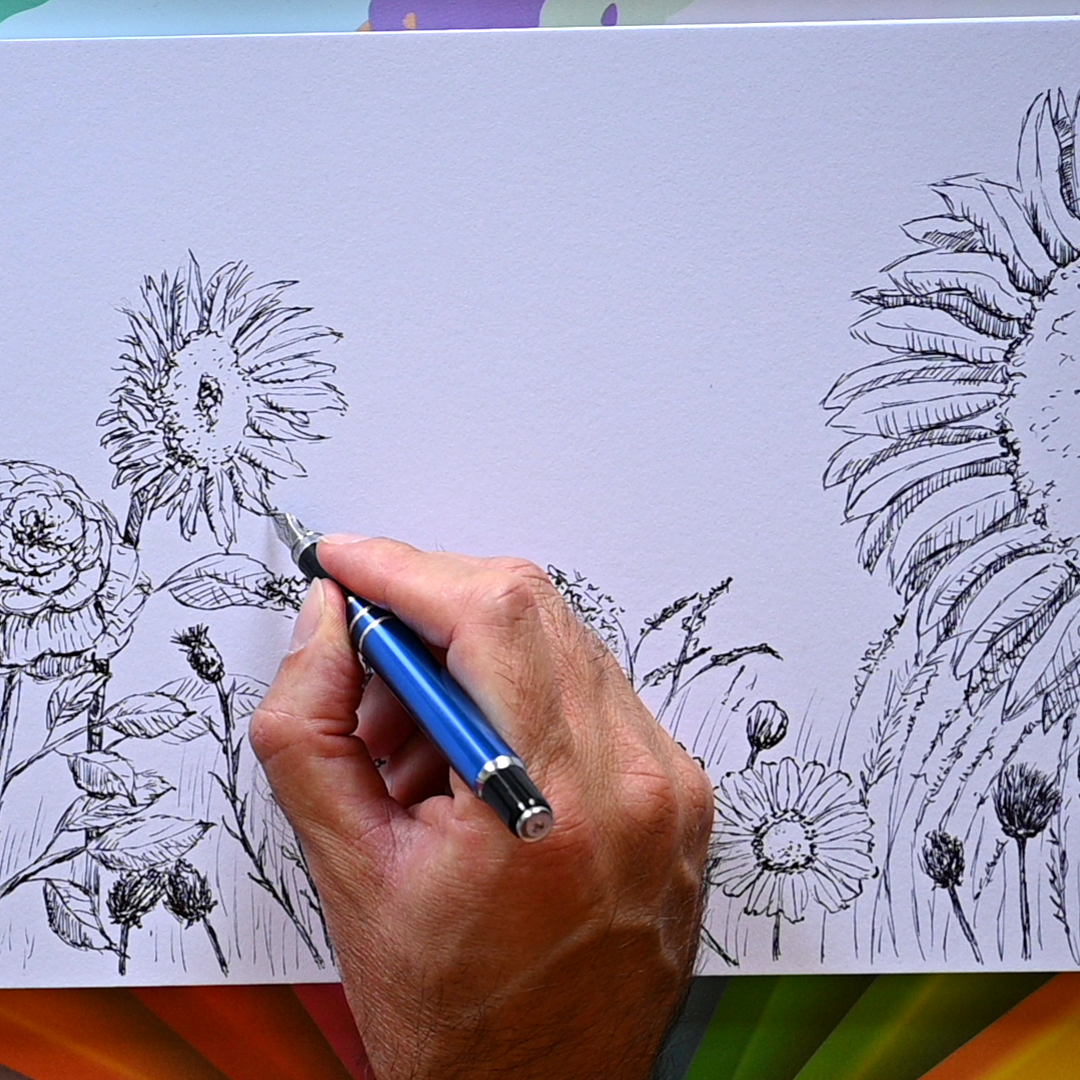 The skill level advancing assignments are all truly focused on helping you grow. They're fun to do, allowing you to keep on discovering new potentials. You will be equipped to explore so many wonderful ways to make amazing quick flower sketches ALL ON YOUR OWN!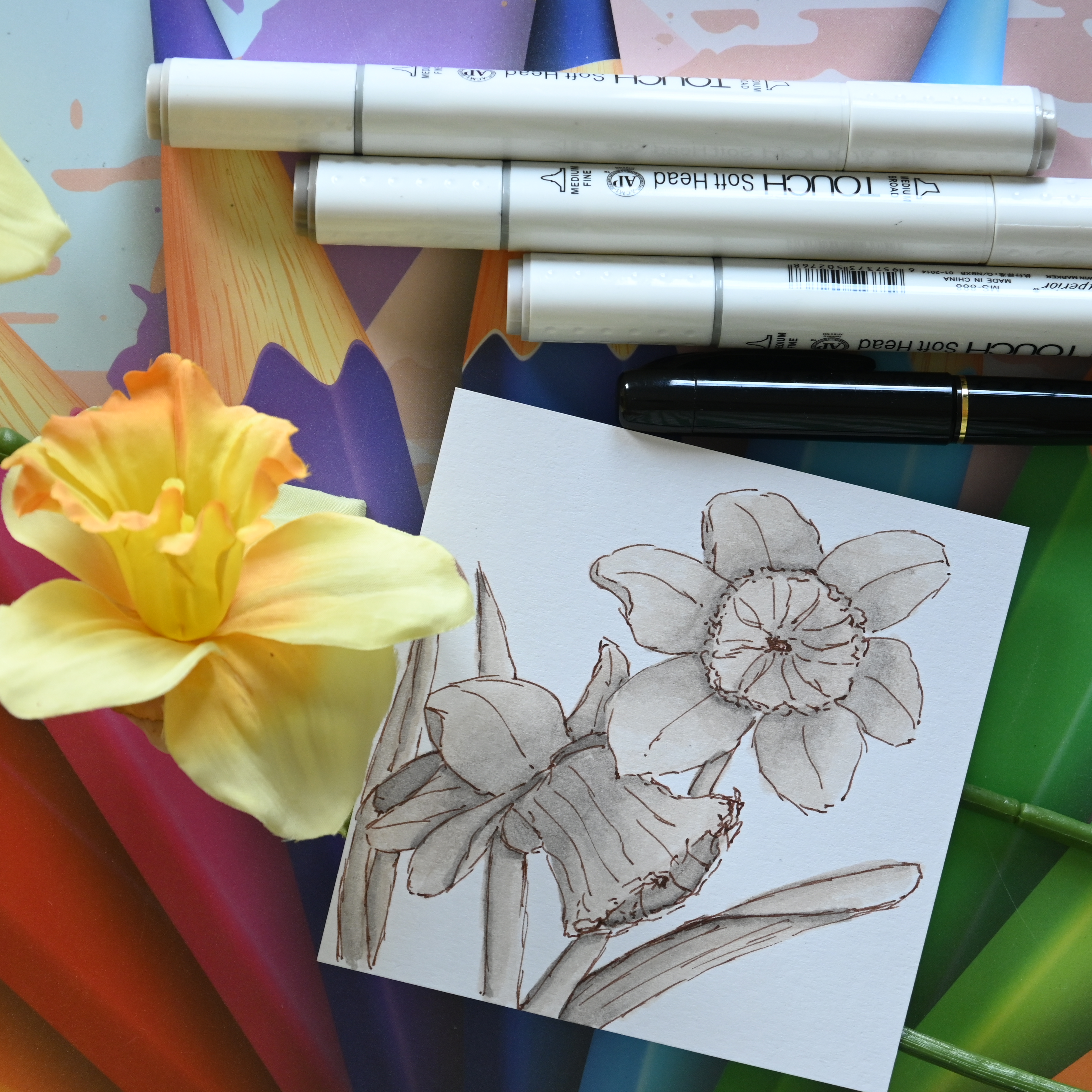 There's more......
Additional PDF: Great Time Saver in PDF format
To help you save time, I'm providing you with a handy book of notes and references. Once you've completed an assignment, there's no need to re-watch the video lesson. Instead, all of my finished works are in this booklet. Just find the lesson you're on and compare your work to the finished assignment in the book. Again, this will save you time and allow you to keep on going.
That's not all though, I've also included photo references. You'll find photos of all the flowers I've used in the lessons. This addition will help you to work in any season, regardless of which flowers do or don't grow. While I encourage you to get your own reference material, I understand that's not always possible. With this booklet you have plenty of reference material to get you started.
Forum
A place to share your work, interact with other students and ask your course related questions.
What Students are saying about my classes...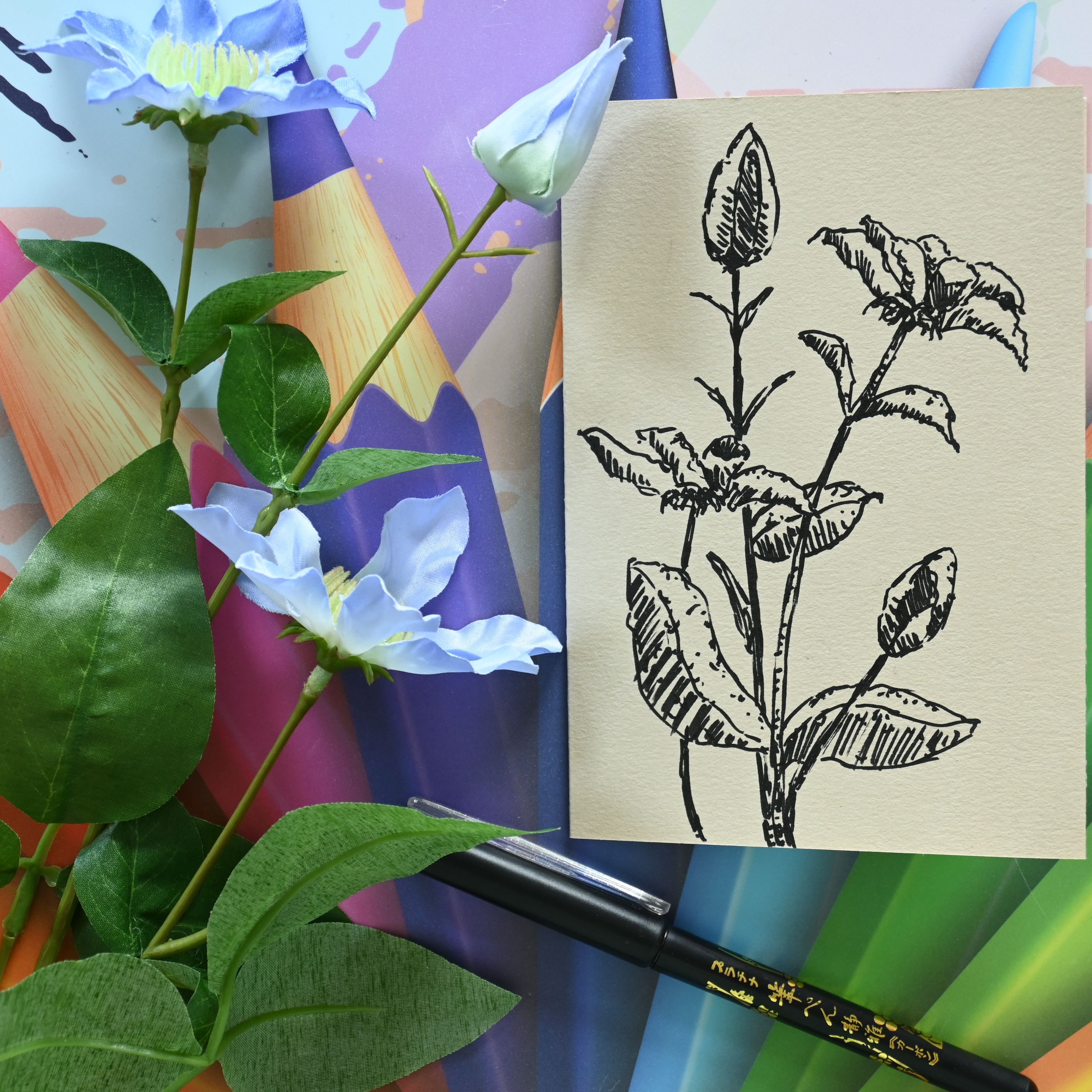 Cher Truax
Excellent experience. Really easy to follow Ben's teaching, Quick sketch method is highly enjoyable to learn and there are many useful applications for this style. I know I will employ this technique often. I am looking forward to completing class.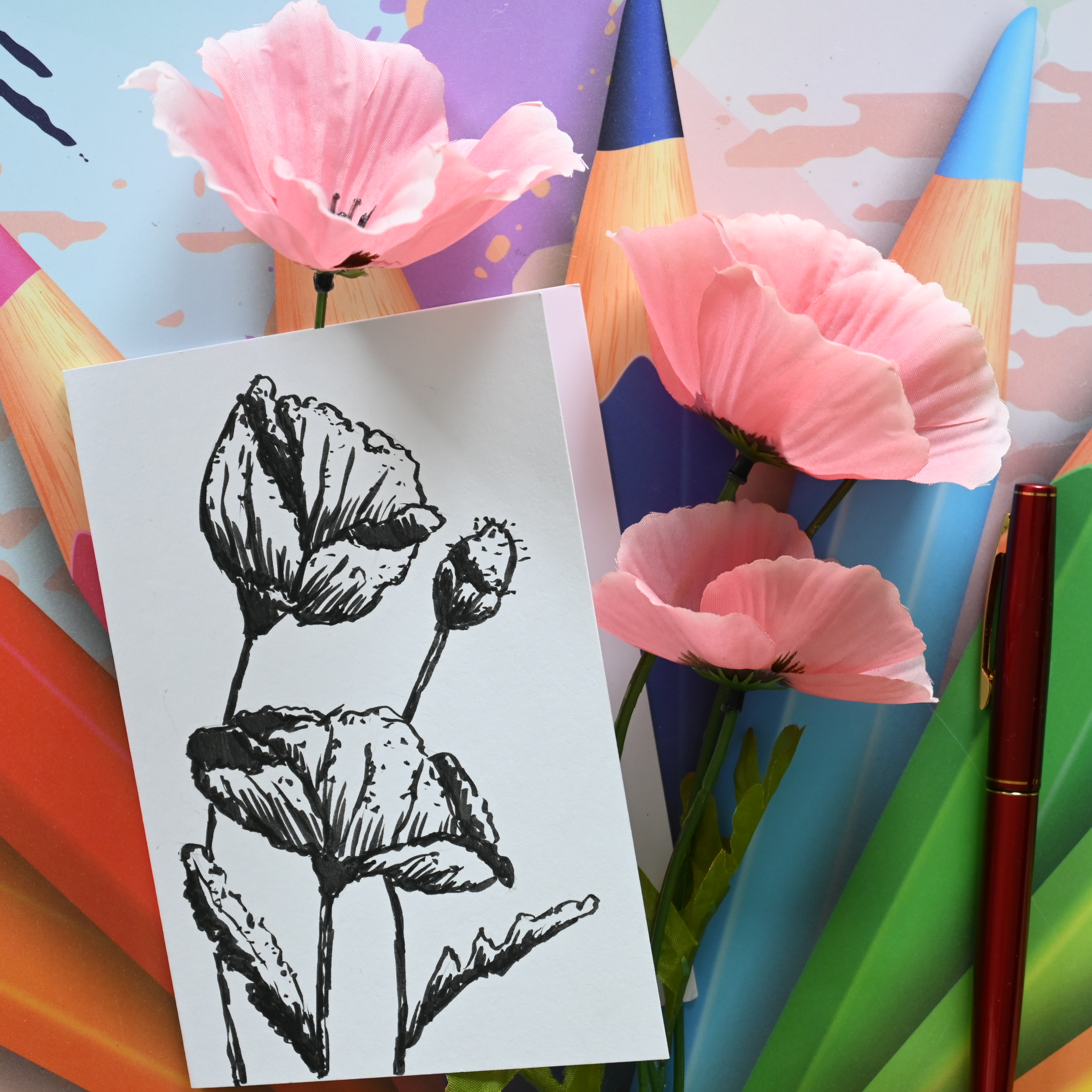 Lara Smoot
This class is wonderful! Benjamin describes everything in an easy to understand fashion. The cadence of the class is excellent. I find that I can easily keep pace with what he is doing. This is the perfect class if you are looking to learn how to sketch things quickly or if you are already accomplished and would like to tune up your skills. His methods are easy to apply to other drawing subjects as well.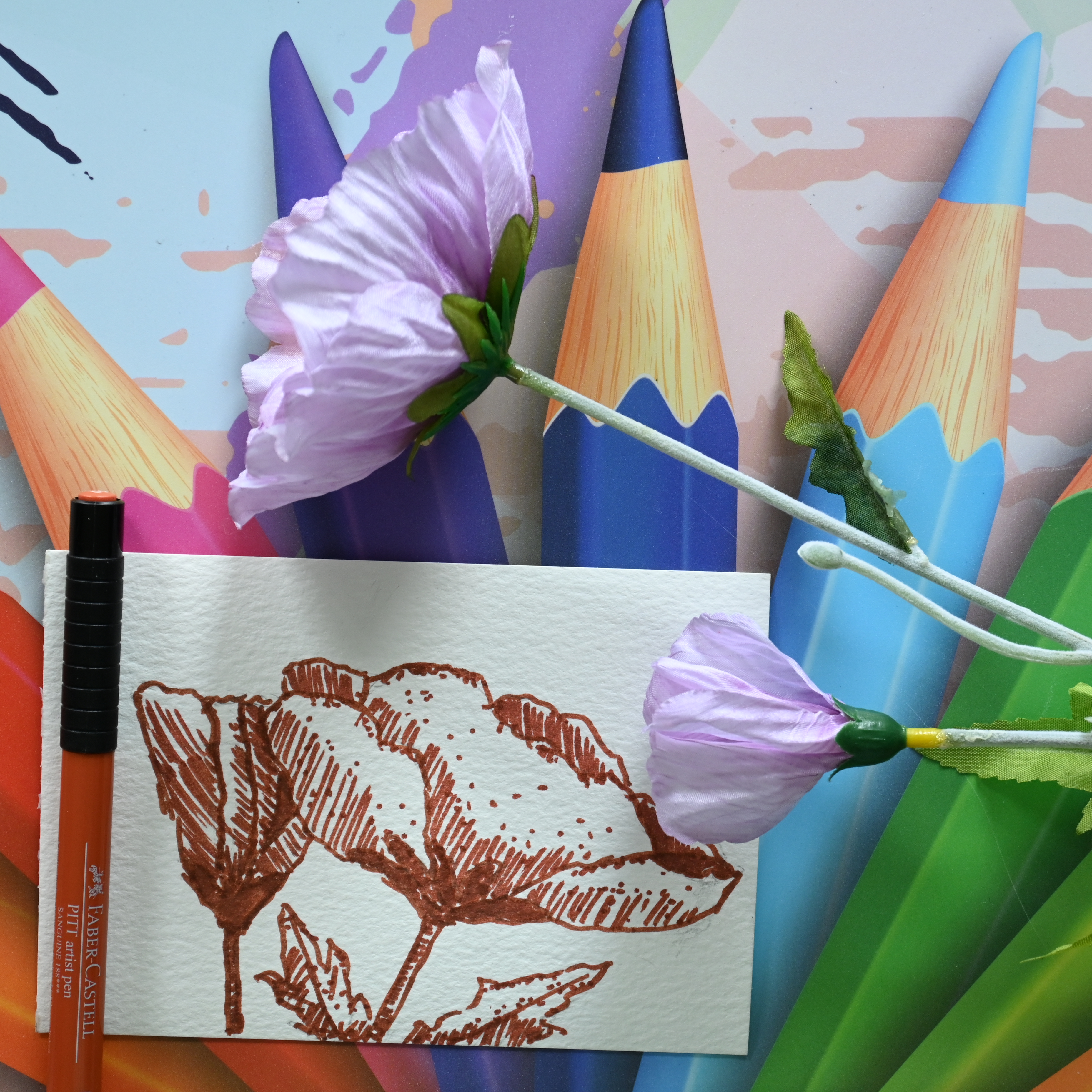 Ann Petrochko
This was the perfect course for me. I have been dabbling in pen and ink for a while, but I wasn't totally comfortable with ink. This course really helped me to jump in...I used pens in my set that I had never used before...the brush pen is now my favorite. This course helped me to embrace and truly have fun with my ink pens. Loved it!
Got Questions? Here are some answers...

What if I'm not happy with my Art Class?
While I would not like to see you go, there is a 30 day money back guarantee.

Will I loose access to the Art Class?
No, you will not. As long as Art Classes by Benjamin is active you will have access to your Art Class. While I don't gave eternal life on this earth, I hope to be around for many more years.

Is there a time-limit to complete the Art Class?
It's self-paced. You can access the Art Class whenever and how often you want.

Can you describe this Art Class in one sentence for me?
In this Art Class you will learn to observe flowers and draw them in a quick, yet effective and convincing way, without spending hours on each flower you draw.

Do I need a certain brand of art supplies?
No, any brand will do. Get what you can afford or use what you already have.

I don't have hours to spend on doing art projects, is this Art Class still for me?
This Art Class shows you techniques to reach lovely results in a short period of time.

Do I need special expensive art supplies to do this class?
No, any inexpensive material you can pick up anywhere will be fine.

Are we going to work with pens only?
Mostly we will be working with a fine-liner and brush pen, but one of the modules goes into using Alcohol Markers . We're going to do shading with some gray alcohol markers. You will need 3 different colors of gray for this module.

Shading? That sounds complicated!
Don't worry, I'll make it real simple, yet very useful for you.

What are the essential materials for this Art Class?
A pencil, some paper and a pen will get you there. Though I do recommend a 0.3 Fine-liner and a Brush Pen and some cardstock to create cards.
For the final module I will need 3 mini canvases, but you could use paper instread.

I've got some art skills already, can I still do this class?
Yes, of course.

Does this Art Class only teach me skills and techniques?
While we will pay attention to skills and techniques throughout the Art Class, we will make it very practical. Each module ends with a project to show you how you can practically apply the skills you've gained throughout the module.

What kind of paper will you be using in this Art Class?
I'm demonstrating sketchbook paper, mixed-media paper, cardstock and watercolor papers.
you don't need all those papers, you only need one kind of paper to be successful in this class, but experimenting with different kinds of papers is fun.
I recommend getting at least some thicker mixed-media paper and a sketchbook for practising.

Are you using complicated hard to follow techniques in this Art Class?
No, I developed special techniques that are easy to follow and anyone can pick up, yet give very satisfying results.

Do I need to know how to draw?
This Art Class will show you the basics of quick sketching flower, you'll be drawing your own flowers in no time.